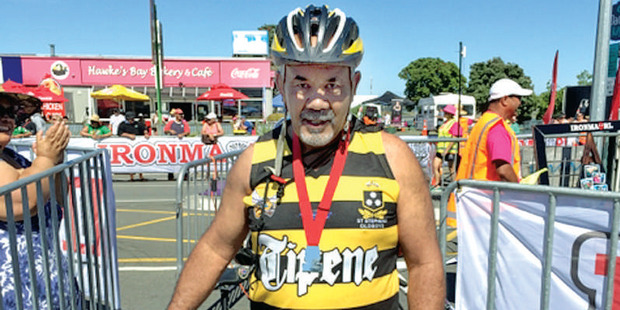 The Maori Development Minister and Maori Party co-leader is no stranger to the event, having taken part in IronMaori for four consecutive years.
"It is no mean feat to complete a 2km-swim, 90km-cycle and 21.1km-run," Mr Flavell said.
Despite having not been on his bike for a while, Mr Flavell completed the bike leg of the race as part of a team.
The 60-year-old said it felt "pretty good" competing alongside his niece Erena Tamati, 20, and his daughter Matarangiroa Flavell, 18.
However, he had to stop and fix a puncture along the way – but that did not deflate his spirits.
"A nice tail wind towards the end made it easier to complete it."
The Waiariki MP said IronMaori was an inspirational event.
"Seeing the sheer exhilaration on other people's faces when they cross the finish line, which probably mirrors your own, is hugely motivational."
Dave Makea was another competitor who put in a big effort, completing the 113.1km in 8.5 hours, beating his expected time by a half-hour.
"It took me just over 4.5 hours to do the bike and swim and 4.5 hours to complete the run."
Reaching the finish line, as well as the support he had received, was a personal highlight.
Mr Makea said it was one of the best events that you could do.
"In this event there is no pressure whatsoever, especially on time.
"Everyone is on the same wavelength and that's what I love. People give it a go and it is very enjoyable."
Like Mr Flavell, the 51-year-old Napier Port worker was determined to take part in the event for many years to come.
"Of course I will do it next year. I still need a goal to keep the weight down."
IronMaori event director Heather Skipworth said the event, which is aimed at promoting exercise and healthy living to Maori, had again attracted strong numbers.
"We had just over 2000 people participate this year with just over 800 individual competitors compared with 600, which we usually get."
Mrs Skipworth said the IronMaori Half Ironman was a success.
"As organisers, we believe it was our best year in terms of organisation and participation."
Original Post: 
http://www.nzherald.co.nz/north-island/news/article.cfm?c_id=1503932&objectid=11556999
PS: If you are interested in training for and participating in IronMaori join my FREE online seminar (webinar) on Wednesday 15th June.
Click here to register for the event.
https://attendee.gotowebinar.com/register/5220613524956626433